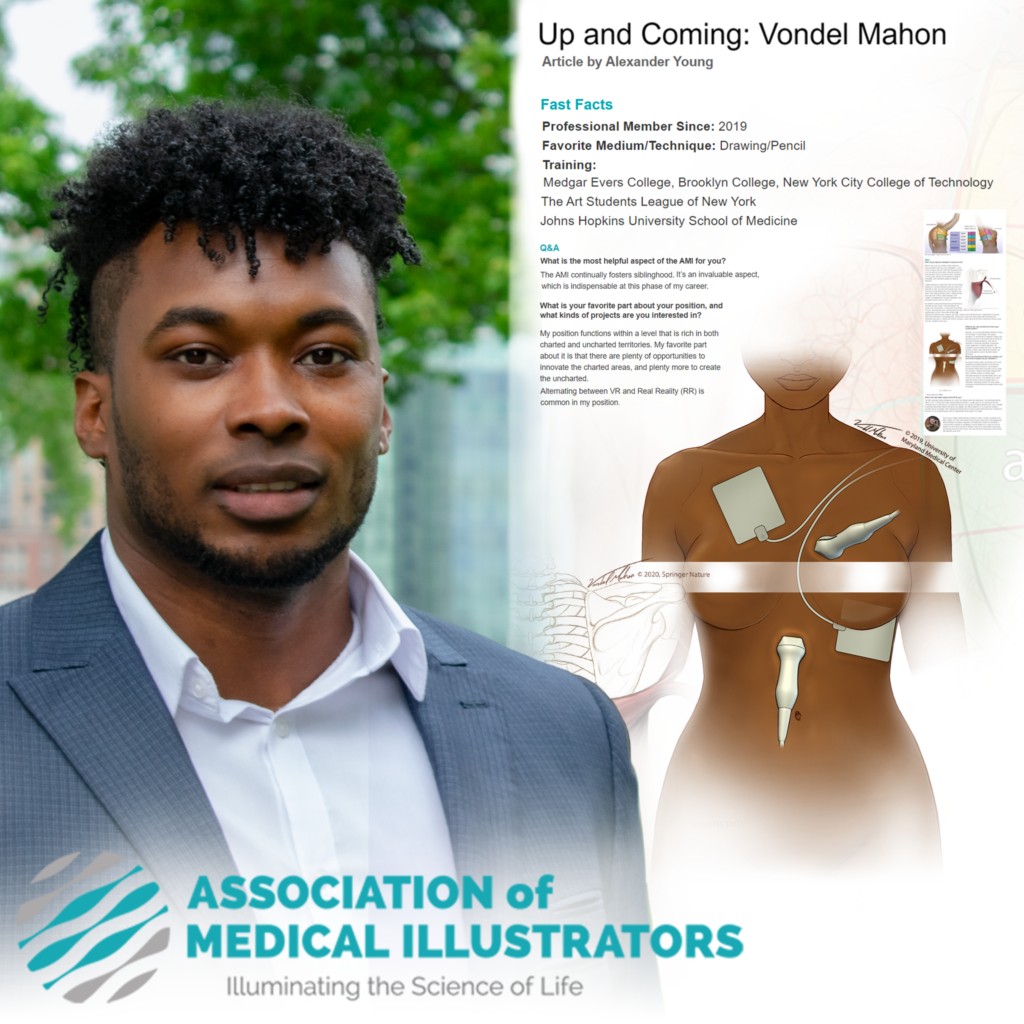 Vondel is originally from St. Andrews, Grenada. Growing up amidst decorative fauna, tropical vegetation and celestial landscapes, he developed a deep appreciation and fascination towards understanding nature through science. In tandem, his insatiable curiosity towards Art was nurtured. He was committed to maintaining his interests in both areas and thus entered the field of Biomedical Communication. As a Medical Illustrator, he combines visual communication and biomedical knowledge to make complex science and medicine more accessible, digestible, and actionable for a diverse range of audiences, users, learners, and providers. His passion lies in helping medical and science professionals conceptualize and communicate biomedical topics and ideas, in addition to educating the world community and sharing the wonders of science and medicine.
He designed his own major in Medical Illustration at the City University of New York (CUNY), where he received his Bachelor of Science, graduating Summa Cum Laude. He continued studies at the Art Students League of New York (Frank Netter's alma mater) focusing on anatomy and design. Thereafter he attended the world's first medical illustration program at the Johns Hopkins University School of Medicine, receiving his Master's of Art in Medical and Biological Illustration.
His knowledge and expertise in Art, Science, and Medical content have allowed him to collaborate with leading researchers, radiologists, anatomists, surgeons, and computer scientists to create cutting-edge content for medical research, training, and clinical practice. He began his professional career as a Medical Illustrator and XR designer at the world-renowned R Adams Cowley Shock Trauma Center. He also designed Virtual Reality (VR) surgical training simulations for the industry leader in VR surgical training. He currently serves as the Manager of research projects at the Center for Medical Innovations in Extended Reality (MIXR) at the University of Maryland School of Medicine. He is the principal Medical Illustrator at Mahon Illustrations LLC and a board-certified member of the Association of Medical Illustrators (AMI), with over 10 years of membership.