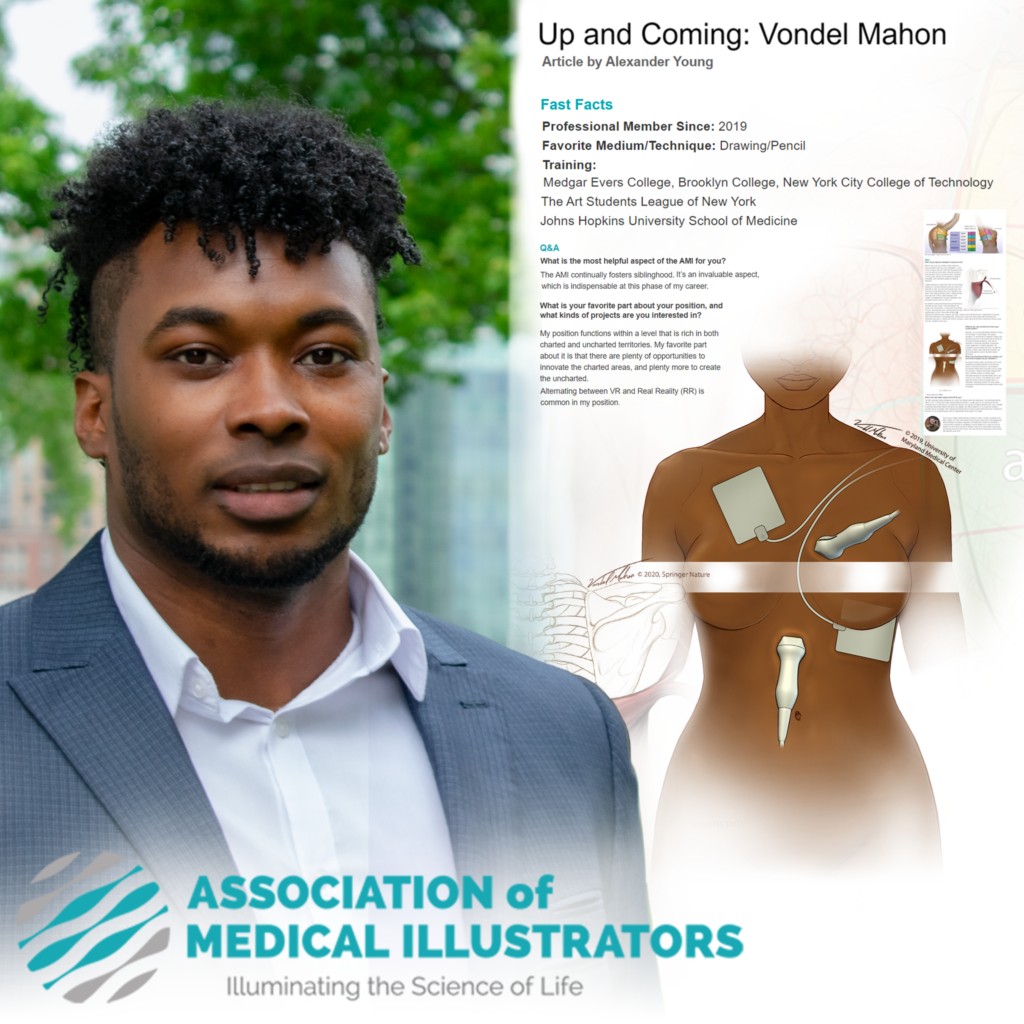 Vondel Mahon is originally from the West Indies, St. Andrews, Grenada. Growing up amidst decorative fauna, lush tropical vegetation and celestial landscapes, he developed a deep fondness and fascination towards nature and the science of life. In tandem, he cultivated an insatiable curiosity toward art. A crucial scholastic junction led to his discovery of Medical Illustration, the perfect intersection of his passions. As a professional Medical Illustrator, he aims to utilize his knowledge, creativity, and decades of practice to promote, educate and share the wonders of science and medicine with clients and the world community.
He designed his own major in Medical Illustration to combine art and science, attending multiple colleges including Medgar Evers College, Brooklyn College, and New York City College of Technology before earning his Bachelor of Science from the City University of New York (CUNY). He then continued his studies in art, design, and anatomy at the Art Students League of New York. Thereafter he attended the Johns Hopkins University School of Medicine for his Master's in Medical and Biological Illustration.
His knowledge and expertise in Medical Illustration/Biomedical Communication has allowed him to collaborate with leading researchers, radiologists, anatomists, surgeons, computer scientists, and XR developers to create cutting-edge content for medical research, training, and clinical practice. He began his professional career as a Medical Illustrator and XR designer at the world-renowned R Adams Cowley Shock Trauma Center. Thereafter he designed and implemented surgical training simulations for the industry leader in Virtual Reality (VR) surgical training. Currently, he collaborates with a consortium of universities and industry enterprises as an XR Research Project Manager at the Center for Medical Innovations in Extended Reality. He is the principal at Mahon Illustrations LLC, a 10 year + member of the Association of Medical Illustrators (AMI), and a Board Certified Medical Illustrator.